If you are using WordPress for your website there are several options you can enable/disable or modify using the Vuukle WordPress plugin. To access Vuukle Settings in WordPress click on Settings in the menu on the left, and then choose Vuukle from the submenu.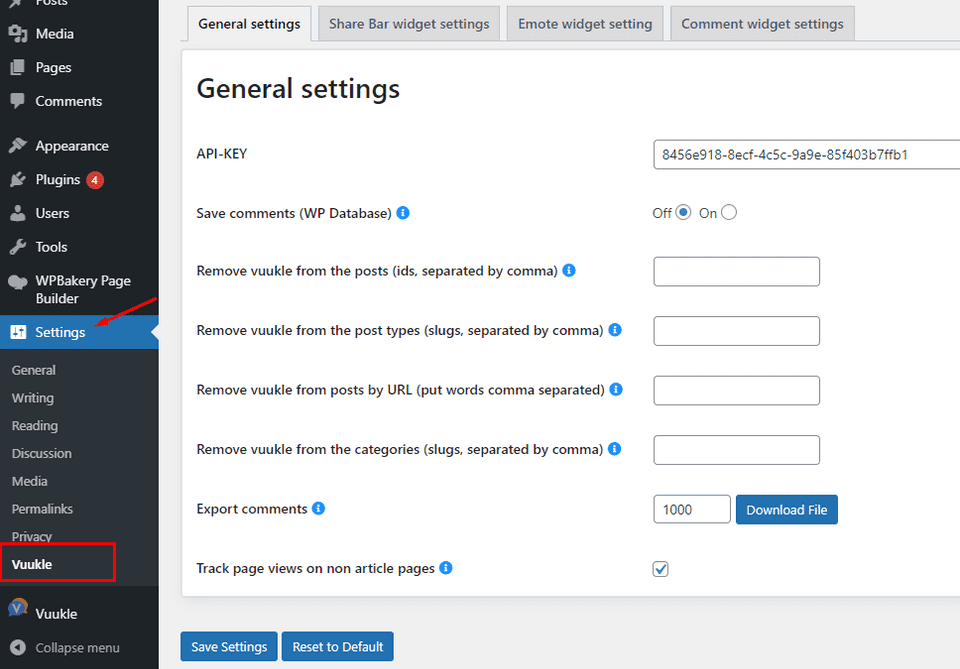 Vuukle WordPress plugin – options description
General settings
Save comments (WP Database)
Choose if you want the comments to be saved in the WP database.
Remove Vuukle from the posts
If for some reason you want to leave a page without our widgets - you can simply type the id in this field.
Export comments
You can export the comments between desired dates.
Track page views on non article pages
Enable this function to track page views on non article pages
---
ShareBar widget
Show Share Bar
You can turn the widget status to on/off by toggling the radio.
Share Bar Position
Choose where you want to show the share bar before or after the content post.
Share Bar Type
There are two types of Share Bar positions that you can prefer: vertical and horizontal.
Enable horizontal for mobile and vertical for desktop
Choose this option if you want to display horizontal ShareBar on mobile and vertical on desktop
Share Bar Styles
This setting is used only with vertical type. You can customize the position of the Share Bar by yourself.
---
Emote widget
Show Emote at the end of each post
You can turn the widget status to on/off by toggling the radio.
Widget width
Using this setting you can change the emotes size in pixels.
---
Comment widget
Enable comments
Turn this "off" if you want to completely hide the Vuukle widgets from the website.
Comments Embed Method
Choose where you want to display the Comment widget
Vuukle WordPress plugin – options screenshot